Electric Neck Massager with Heat, Intelligent Neck Massage for Pain Relief, Gifts for Boyfriend, Girlfriend, Everyone - Gifts for Grandma, Grandpa(White)
About this item
NECK RELAXING: This smart neck massager uses electrical impulses transmitted to deep skin and uses electrical impulses simulation variety of massages to achieve deep relaxation of the cervical spine. Due to the use of electrical impulses therapy, when you use the massager, you may feel an electric shock. This is normal, it's can relax muscles deeper than traditional massage.
6 MODES & 15 LEVELS OF INTENSITIES: Keep pressing the switch button for 2 seconds to start, 6 massage modes, 15 intensity (+/-), and heat function adjustments on the remote control, handy to pick the modes you like for comfortable massage. For the safety of usage, we set the safe mode to automatically stop after running for 15 minutes.
HEATING DESIGN: 6 points constant temperature heating, just like to give your neck hot compress, not only simulate the real comfortable massage experience, but also accelerate the neck blood circulation, and improve the massage effect.
ERGONOMIC DESIGN: Electric pulse neck massager is with U shape design, made of breathable soft silicone material, perfectly fits for human neck skin, provides comfortable touching for relieve and relax pain, stiff and fatigue of cervical muscles, improve sleep quality and promote blood circulation.
REMOTE CONTROL & USB CHARGING: Magnetic wireless remote control and button control, allow you to enjoy massage anywhere, and enjoy a comfortable massage experience. Comes with a USB charge cable, convenient for your trip, home use. As an ideal gift for friends, family.
Product Description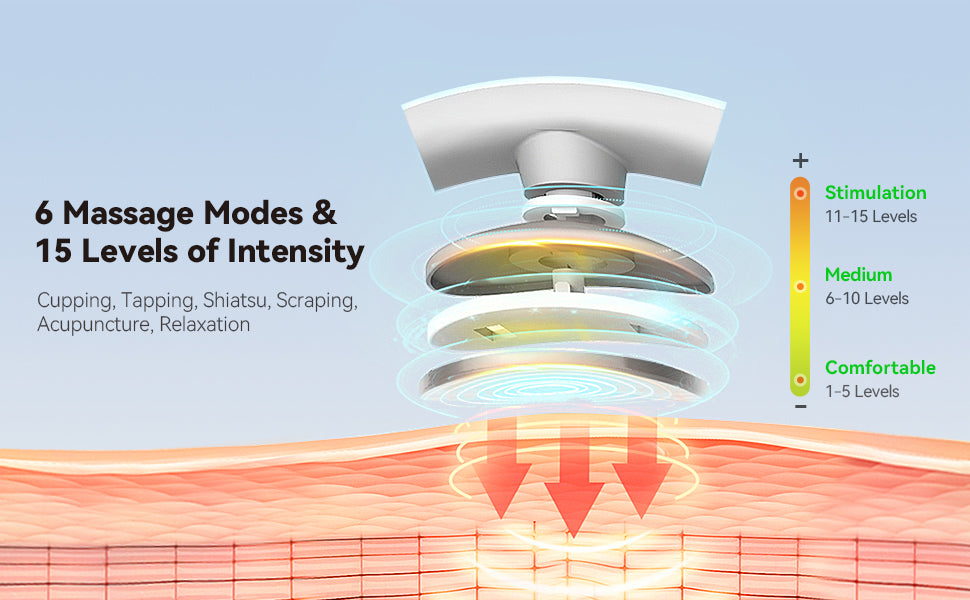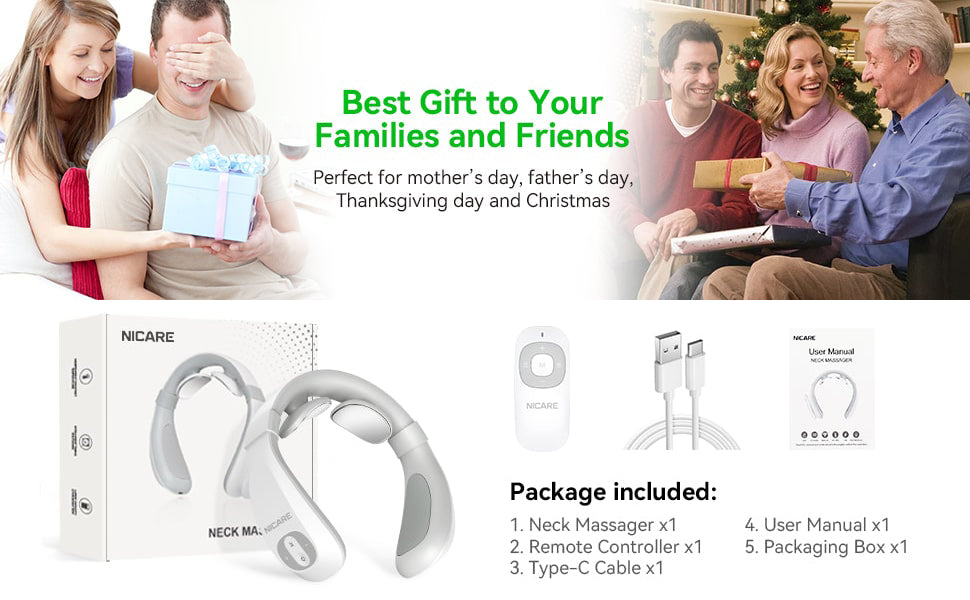 Ein sehr tolle Erfindung
Ich liebe dieses Nackenmassageger?t einfach und nachdem mein Altes kaputt geworden ist hab ich mich wegen einem Neuen umgesehen. Dieses ist natürlich schon viel besser es braucht keine Batterien mehr. Ich werde sogar begrü?t und es spricht mit mir. Bin auf jeden Fall sehr zufrieden und hoffe dass es lange funktionieren wird weil da w?re ich dann schwer entt?uscht.
Ohh hwll yeah are kidding me. I'm about to buy 2 more at that price.
So far all I do is like this purchase. Love it . MR. B
Love this thing
I have chronic neck pain which leads to headaches. Although it may not technically relieve the pain, it feels good when you're in pain. For me, a combination of pain meds, this massager, and some still, quiet time, does sometimes relieve pain that I can't normally get rid of. Battery life is good and it's easy to use. Sometimes I have to press the remote buttons several times but it's not a big deal. Short charging cord. Recommended.
?I wish the battery would last longer
I use it for neck pain, easy to use, only wish the battery would last longer
Preis leistung
Mir hat die gute bedienung gef.missfallen hat mir die einzelenen modis die nicht so in meinem sinne sind